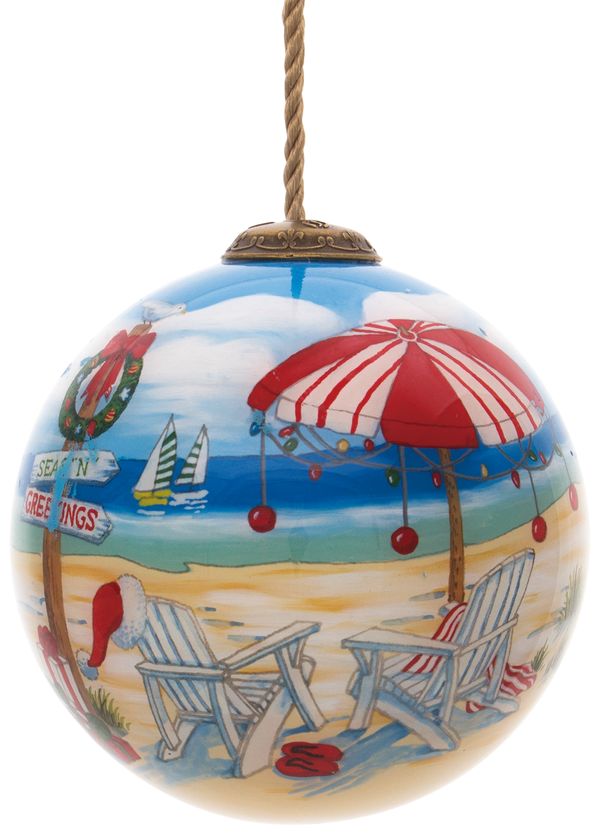 Holiday Beach Signs Ball Ornament
This Inner Beauty ornament is intricately hand-painted on the inside of mouth-blown glass using the ancient Chinese technique of reverse hand-painting.
Each image is created using thousands of delicate paint strokes applied to the inside surface of the glass resulting in a truly unique work of art.
Each ornament is beautifully packaged in a satin-lined, brushed suede gift box which includes a full-color story card describing the technique of this ancient art form.
An adjustable antique gold-colored cord with tassel provides a beautiful and easy way to hang each ornament on a Christmas tree or a decorative ornament stand.
3" diameter, Round glass shape,

This ornament features the licensed original artwork of artist

©Paul Brent
Holiday Beach Signs Ball Ornament
This was a beautiful ornament. Perfect to start a hand painted collection
Very nicely crafted ornament. I am glad I got two.
I am not using this charming holiday beach ornament as a Christmas decoration. Rather, it hangs overhead in my beach living room with other ornaments from Wayfair-seashells, a seahorse, a mermaid, a crab, and others. I hadthis decorating idea because of the Covid pandemic. We usually get to spend some time in winter as Winter Texans near The Gulf of Mexico beach area. We moved so our rooms were all empty. Since we were disappiinted missing our beach holiday, I brought the beach into our new home. Wayfair iffers hundreds of beach items and its fun making a list and hunting forhem. They have tropical plants, even trees, interesting knick-knacks, pillows, beach blankets, wonderful painting of various media and art pieces. You really should start your own BEACH LIST you will be absolutely amazed as you find all kinds of things to add to it. This summer, this new room will remind us of summer and the winter beach holiday we look forward to.
Great gift for friend who has a beach house
Lovely packaging. Great ornament.